Choose Best Psychologist, Psychotherapist, and Relationship Counselor
Your Mental Health and Wellbeing Partner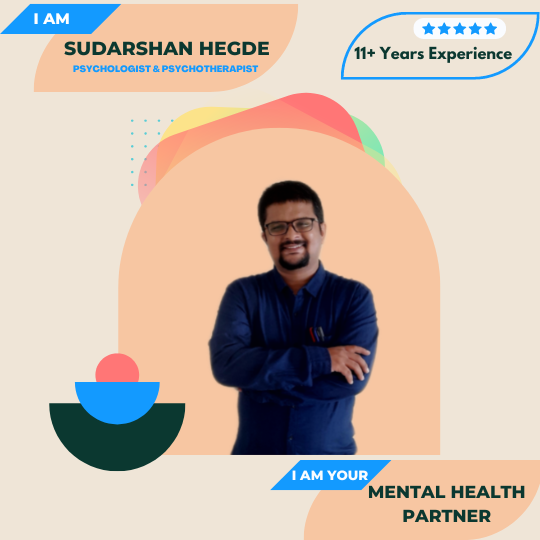 I have more than 12 years of experience in the Mental Health Service field as a Psychotherapist, Counselor, Researcher, and leading a team of Counselors as a Supervisor.
 Opportunity to play these roles came from pioneer health institutes like 
National Institute of Mental Health Neuro Sciences (NIMHANS)
St. Johns Research Institute
Yogananda Hospitals 
All these roles added values to my experience. I consider each day as FRESH as well as each client as NEW PERSON who can add value to my learning curve and keen to add values to their life.
Life member of Counsellor Council of India (cci.org.in) (CRN2528850).  
Active member of  International Association of Applied Psychology (iaapsy.org)  (member ID 6003)
 Thank you for choosing Manospandana and Me to become your mental health and well-being partner. Aims to be your best psychologist, relationship counselor and psychotherapist.
Choose Your Counseling and Psychotherapy Services - Begin Your New Journey with Manospandana
Happy Parents and Children
Our Customer's
Testimonial
I visited Dr Sudarshan Hegade for my younger daughter's problem. She was little cranky. she did not have good food habit and was not willing to go to school. When... read more I met Dr Sudarshan Hegade, He listened to my problem very patiently and calmly. The suggestions were given by him were, to acknowledge the childs problem patiently and console the child. He taught me how to instill confidence in the child for her positive attributes. In regards to food habits he suggested to involve the kid in the food preparation of her choice. I started implementing the suggestions given by Doctor and my daughter is better now. Thanks a lot Doctor

Vasantha Hiranya


July 28, 2022

Whilst I was looking around for a personal counselling in south Bangalore, I came across Manospandana centre and was interested to give it a try. I feel I did the... read more right thing by obtaining consultation from Mr. Sudarshana, the man who understands your concerns and provides unbiased advices. His approach towards tackling issues and method of assessment to help you stay in the right track is truly commendable.

nagesh malyavantham


February 28, 2021

A counseling journey with Manospandana helped me a lot to come out of my fear and anxiety during Corona Pandemic (Covid -19). Now I can say it was not related... read more to Covid but was connected to me as a person. Hence writing a detailed review. It might be lengthy, however I hope this might be useful to many to clarify their doubts. Even today I can recall, when I contacted Manospandana through google page in the beginning of June, how anxious and fearful I was. Psychologist of the center made me relax and gave space to express my concerns at the very beginning of the conversation. He explained how counseling and psychotherapy can help to address and manage my emotions. When he proposed for a 15 sessions of counseling over a period of 3 to 3.5 months, I questionned why it is necessary. He explained the need and potential benefits and give options to think and take a decision. Kept all options infront of me and left me to make decision. Now, as I am about to finish my last few sessions, I realized how powerful different tools and techniques proposed in the sessions. In brief, I learnt the connection between my thoughts, actions, feeling and biological changes. He taught transactional analysis (TA), Cognitive Behaviour Therapy (CBT), tools to understand and manage our behavior, thoughts and feelings thus have some control on our brain chemical activity. Now I can confidently say I have a tools and skills to manage myself in different situations of life. I am more confident now. Though Practicing few techniques which needs a longer practice. Dear friends, any common man like us can approach counseling. In the beginning I felt am I mad to consult. Now understood any one can seek help when we find difficult manage ourself. I do say it is my life changing event. Feel free to contact psychologists. I am happy to recommend Manospandana and Sudarshan ( he taught me not address as Sir or Doctor and treated me as equal) to seek help related to emotional disturbances, negative thoughts management, tuning your behaviours achieve happiness in life. Thank you Manospandana and dear Sudarshan.

Vijay Kumar.s


February 28, 2021

He helped us in sort out my problem and spacilly family issue

jaya sinha


February 28, 2019

I have been taking the counseling from past 2 weeks and I am thankful that I took this decision. Counsellor psychologist Mr.Sudarshan is kind and helpful. I was suffering with... read more OCD and some illness which couldn't be figured out in medical terms, since then I am on this counselling I have improved a lot and see positive changes in my mental and physical health. I always believed that a counselor is someone who show us the path to be capable of knowing the problem and help in finding a way to correct or modify ourself to fix it and he did beyond that. I am confident that upcoming days this counselling would help me to be stronger person to handle situations and life in better way. Kudos to Yogananda hospital for having such a facility. I suggest people to be more open to to visit counselling if required without hesitation once. I am sure it would be life changing choice.

Pavithra Andamada


February 28, 2019

After the counseliing sessions could learn new techniques to cope up With stress and anxiety .Feel more aware of Situations and greatly helped to reduce... read more Stress and deal withEveryday situations. Thanks

Priyanka Kumar


February 28, 2021

Problems with concentration, unwanted thoughts ,anxiety issue can be worked at manospandana effectively.Not only problems solving, counceling for betterment of the life can be expected here,"mental health is the... read more best health".

Manoj


February 28, 2019

The councelling with Mr.Sudharshan Hegde has helped me a lot to come out from the issues I was facing with. Problems with unwanted thoughts ,anxiety issue can be worked ... read more at manospandana effectively. I am very greatfull to you, Thank you very much.

sangeeta san


February 28, 2021

We are very satisfied with Dr. Hegde's consultation. He listen camly to all our issues and give suitable advise.

B Nandy


August 28, 2022

Mr. Sudarshan Hegde is a good listener and sincere in his effort to solve clients problem.

Keshava V


December 28, 2022

A good platform to express your prolonged emotions and get a satisfying solutions. Felt better after attending the session ♥️

Mohan U


February 28, 2022

The psychologist was super nice and supportive. I contacted him for my internal assessment and he was so helpful.

Charu Grover


February 28, 2022

"ಈಗ ಮತ್ತು ಇಲ್ಲಿ, ಈ ಕ್ಷಣದಲ್ಲಿ ಬದುಕುವುದು ವ್ಯಕ್ತಿಯ ಆರೋಗ್ಯಯುತ ಜೀವನಕ್ಕೆ ಅಗತ್ಯ. ಆದರೆ ಅದನ್ನ ಸಾಧಿಸುವುದು ಒಂದು ನಿರಂತರ ಪ್ರಕ್ರಿಯೆ ಮತ್ತು ಕಲಿಕೆ." ಇದು ಮನೋಸ್ಪಂದನದಲ್ಲಿ ಸುದರ್ಶನ ಹೆಗಡೆಯವರ ಜೊತೆಗಿನ ಮೊದಲ ಆಪ್ತಸಮಾಲೋಚನೆಯಲ್ಲಿ ನನ್ನ ಕಲಿಕೆ. ನಾನು ಮಾತ್ರೆಯ ಅಗತ್ಯ... read more ಇದೆಯೇ ಎಂದು ಕೇಳಿದಾಗ ಅವರು ನನಗೆ ಕೊಟ್ಟದ್ದು "ನಾನು ವರ್ತಮಾನದಲ್ಲಿ ಇರಬಲ್ಲೆ, ಇರುತ್ತೀನಿ. ಇದು ನನ್ನ ಆಯ್ಕೆ" ಎಂಬ ಎಷ್ಟು ಭಾರಿ ಬೇಕಾದರೂ ತೆಗೆದುಕೊಳ್ಳಬಹುದಾದ ದೃಢೀಕರಣದ ಮಾತ್ರೆ. ಅದರ ಜೊತೆ ಡಾ. ಮೀನಗುಂಡಿ ಸುಬ್ರಹ್ಮಣ್ಯ ಅವರು ಬರೆದ "ಮಾನಸಿಕ ಸಮಸ್ಯೆಗಳಿಗೆ ಮನಸ್ಸು ಇಲ್ಲದ ಮಾರ್ಗ" ಎಂಬ ಪುಸ್ತಕವನ್ನು ಖರೀದಿಸಿ ಓದಿ ಅರ್ಥೈಸಿಕೊಳ್ಳಲು ಹೇಳಿದರು. ಈ ಪುಸ್ತಕ ಓದಿ ಮುಗಿಸಿದ ನಂತರ ಉಳಿದ ಆಪ್ತ ಸಮಾಲೋಚನಾ ಭೇಟಿ. ಬದಲಾವಣೆಗೆ ಸಾಕಷ್ಟು ಅವಕಾಶಗಳಿವೆ. ಅದಕ್ಕೆ ನನ್ನ ಪ್ರಯತ್ನ ಪುಟ್ಟ ಪುಟ್ಟ ಹೆಜ್ಜೆಯಿಂದ ಸಾಧ್ಯ ಎನ್ನುವ ಭರವಸೆ ಈ ಭೇಟಿ ಮತ್ತು ಅವರ ಹೇಳಿದ ಪುಸ್ತಕ ನೀಡಿದೆ. ಧನ್ಯವಾದಗಳು.

jagadish shettar


February 28, 2021

We were about under the impression that we are giving everything that my sixteen year older needed. But after going session with you we were wrong. We are following your... read more suggestions strictly on correcting our self.

Manjunath Dasapa


July 28, 2022

I wanted someone in North Bangalore to mentor my 12 years old son to tackle his adolescence problems. I had been attending so many parenting sessions, other counselling sessions outside... read more to tackle the issue and finally had failed. One of my colleagues recommended Manospandana which was in other end of my stay. But now I feel, I took right decision of taking my son to Mr. Sudarshan, Psychotherapist and Relationship Counselor. It has been 5 months since we have been associated with Manospandana. I take this opportunity to thank Mr. Sudarshan for all his help in bringing required changes in my son. Now, my boy has gained his self confidence and able to present himself in front of the Crowd. He is eventually able to manage his volatile emotions. Mr. Sudarshan is very empathetic person. He will listen to you patiently and carefully before jumping into any conclusion and advising you. I think he adapts to his patients' characteristics and then will deal with their problems which I feel is his greatest strength. Mr. Sudarshan also checks on my son's progress or if has any issues when we will not be able to make for regular sessions due to unavoidable situations. He has inspired my son and brought in so much of hope in him that he is so happy to attend every session. In fact, he will be waiting for Saturdays to meet Mr. Sudarshan that he likes spending time with him so much 😊 We are sure that my boy will be able to completely overcome his problem very soon, that there are so many positive changes occurring now. I cannot thank Mr. Sudarshan enough for all that he does when my son is in this tough situation.

Tanuja Venkatachalapathi


February 21, 2023

Been to him with my relative for his consultation it's been wonderful experience , appreciate Dr Sudarshan Hegde for his efforts to change the state of mind of the... read more patient's , liked the approach and analyzing skills and his advice has shown lot of improvement on my relative .. Really recommend him ..

Chidambara M.V Venkatachalamurthy


February 28, 2020

1st time i visited, Dr. Sudarshan Hegde was so friendly and i was very glad to meet him personally.

Vinutha vinu


July 28, 2022

Excellent listener and amazing counsellor. Loved the session. Would definitely recommend to a friend!

Naveena Virgo


December 28, 2022

I REALLY HAD A VERY GOOD EXPERIENCE WITH MANOSPANDA COUNSELING CENTRE. I AM VERY HAPPY WITH THE CHANGES IN MY THOUGTS AND ATTITUDE. I AM VERY GREATFUL TO THE ... read more CENTRE (SUDARSHAN SIR) AND I SUGGEST CENTRE TO ANY ONE WHO HAS DIFFICULTIES IN ATTITUDE PROBLEMS. THANKS ONCE AGAIN TO THE CENTRE AND SUDARSHAN SIR.

Arun K.R.


February 28, 2021

Dr. Sudharshan is very patient in listening to the problems before concluding. Much needed therapy and guidance. Appreciate all his help

jayanth aatreyas


February 28, 2021

Dr. Sudarshan Hegde helped me figure out myself better. Helped me overcome my fear of interviews. Highly recommend.

soumya goud


June 28, 2022

Helped to overcome fear and sleep better and now iam felling Very good in my life thank you sir

barun maitra


February 28, 2020